This is google translator, so dont expect good translations.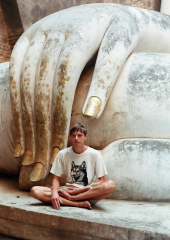 What makes the trip? Dependence of the Travel?
Hm long, but the answer is a thought-fiber cocoons after the evidence is that this is the life, the curiosity to explore may arise from.
There is a type of man who would rather static and do not want to move from your comfort zone, do not want to inconvenience himself zsuppolni. I remember what used to be Herce-hurca was (yes, this is the right word) with my grandmother to start anywhere. Yes, the trip takes courage and motivation. more coward the persons, less bed they were sleeping in. – but what about beyond?
There is another type of character who always ask, wondering – as the ancient wisdom-loving people (Philo Sophos) did – you want to know what kind of relationship exists in the system, and we also have stretches beyond where you stuck. The mysterious thing is without end (the end of which is unknown, mysterious) – and perhaps this makes me walk into the unknown and ever more and more things to discover, because I do not believe that the world (only) that's it.
What I used to hitchhike to the philosophy of the match here, I agree completely. And the mask is teóriámat by adding: society usually imposed on us an attitude, not necessarily what we (I), we already have theirs, people believe, and believe that good for them. (In addition to them is not good) And since it does not (always) good, and feel that they change more problematic than stay in (or just simply do not dare to change), so frustrated, anxious, and a medium live then down most of their lives by their enemy nor they wished. But they do live.
The journey is a kind of consciousness change – to connect to the title, also raised the issue of addiction – such as in the past was the cult of Dionysus. There was a controlled way hétköznapitól departed, and together return to normal. Today can not live with out this change, we can not show the extreme situations that are characterized by what the old cults were given the opportunity. (Such as. The cult of Dionysus). There is no time to themselves and to live and keep a constant guilt to those who want to move from the known. And if anyone has done yet deviant fashion, it is very difficult to return to society. (This extreme case of Japan, which is not considered a normal man, who after graduating from university not immediately start to work, but maybe 16 years after learning would take the liberty of the summer.), The Individual as the bad, the anathematized, the old society was condemned to death, when she was alone. In today's modern society, it is doomed, in spite of a good man, but the problem is that not assimilate them, the majority.
The ancient societies of the former collective (and regulated) the possibility of experiencing the deviance, together with the community after the individual is brought back from this extreme state. At that time it was part of a cult, but now it has spread. Today only way an individual is not supported by the new order, so back to the community high order (eg, alcoholic, homeless had, szabadúszónak alternative útkeresőnek, criminals) are very difficult. A restless soul, he can not now be a pirate, or conquistadors, (up to a politician). Thus, to remain as an interim solution to the kind of journey of discovery, which has a good case can leak back to the legitimate spheres of society, say, articles, books, writing, or maybe a photo exhibition, a slide show – but I say this is a lucky case. Otherwise, I'm socially useless, as Chuang Tzu convulsive tree.
But we'll see. The blind is what he said.
The mask is also a question related to travel, because you self, hiker, backpacker adventures in life situations we usually are, where we can not play the good citizen, because it is cold, smelly there, tired and dirty or noisy environment and annoying, others than what you want, you can not have things the way you want, not what you planned to succeed.
In a relationship a few weeks tour is worth a year of marriage in such a case, because travel is 24 hours of active intercourse has no loopholes, can not be, to live side by side, like an ordinary marriage, which legally we can escape our work, elfoglaltságainkba or in another room.
Open hand to play, the mask must be removed, and certainly should confront. This confrontation is one ourselves (both good and bad side), which is painful for your partner and: as self-knowledge way.
Because the road to be in such a context realization. As is the wandering life, every day when you kick up a certain vague hope of knowledge. Being a pilgrimage path of realization, where some are trying to achieve targets set for the spiritual, which is apropos of a place toward which we are, but the real events and you are inside. Being on the road to the arrival.
That is why I say that only the healthy development of people received (and the migratory birds), the trip is capable of enthusiasm. Only in this context gives something of the journey. The question is whether this happens for all the traveling?
But the trip is an extra confirmation that all over the world you can find like-minded (live, loving) people who are unknown, of reward is not waiting for their sense of internal space on help. Yes, the strength.
To travel in an open life, where anything can happen – and it also falls, but what you may become (and not a well-deserved two-week vacation I have in mind). Wow, this reminds me of the ancient medical advice: a change of air. Avoiding the environmental requirements / liberation from the pressure, and this used to be able to as well. In the Middle Ages was a saying here which is cut "if you want to gyogyulni, you must first go to confession." The inner strength of an important road, this should provoke the journey to complete the experience. But today, most of whom are traveling, they really raftingolnak " élménytúráznak without having to know much more potential for travel.
For example, Anything can happen. This is bad, but a lot of uplifting stories as well. I was in this latter – especially love the people, it is a `good man in the world 'feeling bring forward. But when I think about the world in which the structure (that mankind's Village was forced upon us, and edited), you feel like going to the right of life, because the-world (n) k anti-life. (That's cultural pessimism allow myself. Madách Think of the drama (I think the scene in Prague). We can not retreat from the chaos, because the beszippant szamszara.
That everyday you find that inhaling the polluted air (center minus five years, the average age!), Do not drink fair water, we eat, who knows what they contain synthetic, laboratory prepared meals, while drinking water flushed toilets Inke. The ultra-violet walls and forced to do, our sense of smoothness in the media. What kind of time, it is only by radio értesülünk. Construct an artificial world around us, overheated houses and légkondícióval supercooled universe, even at a time, when not required, not thinking that it polluted the price of the air, they also suck. The car will not replace one bus, because of comfort, status is important, even if it is smoked for hours to exhaust their peers and their own and others' quality of life worsened.
We ourselves can not do it (there), always ask for the world. Even if we ask. But take away. Even if you do not need so much. Even if from others.
And to emphasize again that the losers of these environmental influences are mainly the people / groups / people who are not economically rákészülve this because there is no uv. creams and filter glasses, do not take mineral water, acid rain, and new pests are unable to defend themselves, and not Csernobilról are notified. The modern world invades their lives and market / profit, bringing, rátukmálva the side effects of our society. (The distribution of infected blankets in order to genocide, which the Indians after the abo-with is done, this is only an extreme appearance. The modern form of colonialism and others more than they could say. LSD. Zeitgeist movie)
Someone might say: but because we have good things to those people. Yes, but a Papuan can never afford to pay the dentist, which is even more necessary because of the arrival of sugar. Subtle case in which the South American Indians were given the gift of a motorboat, but that fuel will make it much more needs to hunt to elcseréljék gas.
And what is more and more work to have the money to buy it, which will have more time. But there will be! And on this point would be to start a novel, because the list would be endless. A classic story of the old (non western) horgászról;
fishing in the lake without a care in the old. Suddenly, it was an American traveler, and seeing fish caught, said the Uncle. Why not fishing with two rods? Why is it? – Asked on Amazon. Then you could catch more fish, and could buy a boat. You what? He withers all day halászhatsz that you foghass more fish. You what? Because then it would be more money and could buy several boats, dolgoztathatnál people, and you can only horgászhatnál the lake without a care.
But this attitude a lot of us and we lost everything, the things which is far from the countryside to experience the people, for which to live for. Fewer and fewer of these areas, but I hope I trust, as long as two people remain true in the world (it does not fall far from the tree of Bible). They give strength.
No, I do not always show off to the mental szamszaránkra (circular whirl soup), because they do not see this muszály. (Perhaps this szólhatna the holiday as a genre to get out of szamszara malmaiból for a while, but at least a little ráláthassanak background.)
But seeing the world more and more, the feeling that people have no questions. They are not questions. A world in which they are as they are confident about themselves and what they can do about any issue arose because it does not stay on time and energy. And the way-could, to keep no idea, because there is no power coming out mederből .. We are accustomed to tell us, but who and what, we do not think. (Better not think about it and otherwise.)
In this case, I raised the question whether they need any knowledge at all of the world (our) from? Blessed (e) of the poor in spirit? Was there a golden age? Can be traced traces of the world?
And we?
Travel – I love to dwell on the past, be it a smell or a sight or what visszaröpít musical experiences of my youth. The time-travel journey for me, but this is enough to live 40 km away from Budapest to move and you're in the past, the feeling of stopped time.
I mentioned that the trip does not necessarily change place, but the term (in the world, or ourselves) to take possession of. This is a conscious act of the wise than in the much-quoted my favorite Tao Te Ching is written, but meditation is the view of such an ad (for ourselves and the world).
I became an adult that I had to stop away on the map, said there was one. This is true for me, if we do not, that kid is still inside I'm very well, which was not care. A child's life has included many questions about the world and about how, when we are receptive, receptive, you can be anything and anyone. That's life, and later belefásulunk (found it) and it will be (clot) ideas, and habits of daily bread …
Many people say that special man. Not sure but I think that is an exciting one, because you travel a lot, a lot of places visited. This may be a result of internal events (history) series. But the fact is that many of the stories behind the major external events are taking place inside. Me too, even if not visible, you may not even know if drawn when asked. These can only be deposited at me as the dust of the road. I read a saying that what we get in the school of knowledge, the wisdom you travel. Yes, the journey of a catalyst, a chemical which may be convened by the experience of the soul conveyed the essence of events, meaning that you: what or Muk. Carry some impressions of the golden age. I believe, looking for this. God, I'm response. This asset. Us to the existence, be it on paper .. Weöres
But the question is whether we find it? Question or not? I am interested to us (whether we are interested), who we are, who are they? Of course, if not, then there is nothing to look for possible drift of the Inca ruins of colonial buildings.
If you or a self-cognition, the Sipan culture cities, or a Gothic church, a crowded bus or life partner will be both self-reflection mirror. Recall, put together, understand us, something for us. The outdoor events already in us. But of course this is a longer process than any of the internal road. A lot of drifting, forgetting loop (better known as fashion-not have time), our understanding of gyomlálásával deal.
Just as meditation is, it is always painful to watch ourselves, because confrontation with oneself, patience, and time-consuming occupation, which is down-in. There should be. Not only half, as we know, no repentance half. Only at full speed, odafordulás. Of course, if you want to follow an (internal) ut (our) t.
The web of events is included in tribulation, joy, a lot of disappointment, discovery, and then a long bus route which összerázódnak. Things are in place in us. One step closer to ourselves. In any event guides us to ourselves (though if you're awake), so no need to travel. But if we are so, then why not use your inner journey? And then we can be church and rafting as well. Whatever. All the same.
If you are not good for what we do in the midst of change there is opportunity for change, more than a static situation, who wants to avoid another situation. And if that good (as) we are, you will not change is the change in focus. And further we travel to new layers lehántsunk álarcainkból. Thus we meet with us, we find ourselves. Of course, we never lose ourselves, because as fate, God, the answer is always within us. Every time. You can find it. Realization. Who gets up early, enjoy the fruits of a long time.
So, if you're traveling, you should not rush to be possible. It may be a while, but after a month into a tree dunk. But do not be too henyélés, because then we could stay at home. You can follow the path of Buddha, the center considered. Let's look and see also, that beleláthassunk. In order to see the things behind us, and your own self, ego, behind false faces, because the coin has two sides. And this is the best if you watch ourselves, because we are the reactions of comfort zónánkon border situations. Being on the road And it has plenty to offer. So many tour provides an opportunity to leave the familiar rhythms of everyday life. That is, this is the point, the rest is just icing on the cake. And no less, of course, but why not more abundant basket of Dip? There are so many situations occur, turn our favor, we built it.
In such cases, the question involuntarily arises, what about those who are on the road? They quit the tour mindennapjaiból what? Of course, the Zen's response be given by the journey. As was said, you can eat well and zabálni, watch or see. A watershed, what we do. Can travel in several ways. I emigyen.
For those who are constantly on the move, it can return to the exit. This can be a painful shock, which pushes back on the road. It is not the time to return. This also happened with me, you do not understand (em) at the time, up there. And the time does not understand. I am. Then he would be so even when I understand the time. How can we be in heaven, if not lived in hell? That would be nice if it was not bad? That may be easy if it was easy? `Front and rear swing in a row. (Tao Te Ching Karátson Gabor translation, if I remember) But I like the journey is not necessarily a change in location. "Has not left the village, and the world to know." Maybe it is. The wise man. In front of me is still a long way there. That's how I stand on the field trip. What a contradiction is not it?.
What is the trip?
Seeing the Southern Cross? Climb six thousand meters, or a sunset végigámulni 10 thousand meters above the clouds? And not only this region map to me, but he lived and lived worlds, which is a party and I was old. Thank you.
Ellni human altruism (with) children enjoy the frank openness, peaceful wisdom of older people, confronted with the unexpected turns, from which a new world-dart leg. Leave to be.
Condor flying, whale felbukkanva surprise, red panda megilletődve see him confronted me. Termite, a constant flow of armies of millions of birds, penguins toddle, slow calm koala, kangaroo purse filled with all have an experience which, if strong, it does not leave us. Harmony.
I feel a small volcanic crater of the erupting kéngázok sequel to enter the realm of the underworld, or floating in a swamp to experience the infinite depth volcano beneath a mountain peak is thought felrepülni to heaven and talk to God. Forever.
The erupting volcano in front of me next to feel the void of existence, during an earthquake and the power of mother earth. To enjoy the blessings that darn pop up next to us during a blackberry or raspberry bush screen displays. The real world.
Warmth in my heart pours out to the edge of the village house when the old lady comes out to give the thermal band. Share the joy of that nature to share the fruits of it (fun). A blessing. It's that simple.
Or experience the joy of shepherding that may place mild night and morning on the opposite horn plays a huge mountain to us, adding a polenta. Is poorer than we are. But not in terms of understanding the world. Includes ladder. Of reward can not wait, she knows to be happy to help. Ad living situation, home, love. These experiences money can not express, as tourists are not available for purchase. What I can give a story, leaving the world of melody and taste. Or is it just that I'm with them, for them. But do not expect. Things are more clear.
I will not forget when in Asia, someone picks up hitchhikers Kent, stops everywhere and everyone is proud to present, and of course in his native village, we are the most special guests. Tan is the only centuries. The door of the semi-rush village, children's window to peek in to see the stranger.
Journey strength when I see that the advanced societies is the selfless dedication, helpfulness, not only at the level of words. When someone unfamiliar hopeless situation spontaneously offered his house, because there is also a place, do not reward night out on the town. And all these experiences and perhaps eternal eternal connections. Perhaps it would fill pages to list the many kindness, help, what do I keep getting constantly from unknown. Anonymous thank them / you if you helped.
Hitchhiking is often invited themselves to the end of the road, and they are all interesting people, exciting life paths. Being open, it can be anything. Allow it. You can post a stop. This refers to a past life, and this is confirmed by present actions. Live with confidence, without which it is not worth living. This is what you lose very quickly in our modern world. There are too many pseudo egzisztens thing, we are surrounded. The new world order global mechanism to replace the value of humanity and order it. From today there is someone to believe from someone because they have the money position. Yes, the world is changing, becoming less common situations such joy arise, but you know … as long as there are two real people.
Travel upload curiosity, I want to try a new life situations. Exit from a height of four miles into space, to experience a free fall during expansion and contraction of space at the same time to smell the gap, and then return to the sphere of aromas, with an open umbrella while just floating peacefully.
Travel and elhullni a giga polis roppantnyi reality in which the `never end, you always live this experience of facing anything (to me) like a mythical beast, but you like the ant kingdom, everyone has their place in the impenetrable chaos.
Travel – stand in the middle of nowhere, not a hope in the future, or elnyugodni village at the end of the silence of a world where time has stopped. Dekádokat turn back the calendar, while my younger years. The simple life of rolling back all the days of eternity can be the presence of the journey.
Travel – the muezzin at dawn, Hindu or Buddhist mantra of persevering piety (álhatatossága) eliminates the time, today, tomorrow, yesterday is tomorrow, and in that infinity of the moment will be forever. It is I, it can carry.
Travel – weeks to myself when I step out of (my) world and enter the reality, and only a breath in and feel they are. No word, no contact. Meditation. There is no reality, only interpretations. The reality is interpreted. Therefore, we can not even write it, but I live. As with everyone else. I feel like anyone. Six thousand feet high and twenty feet deep, the ocean surface, water, earth, air, and the blazing sun. The world is mine. Ours is. To live for him, because I live for it.
Small as to be the greatest, but not to live legerősebbként of power – this is the secret of greatness that once again the wisdom of the Tao, take shelter .. Nature knows this as well. Even some people. Even if you did not leave the village. Be included in the drift, but not elsodortatva, but from the outside to watch / see the vortex. Do not eat, but not to be or not to eat but to be – that would be the difference? But great. Drift or elsodorva be.
To travel, to walk 60 km uphill, the valley below, and again all over. 5km Swim-t, or the raging sea for a while. Climb deep or high, no return. Do not sleep in days, hours 10-20 zötykölődni small crowded place.
Travel – cold and settled, I do not know where I draw the night. Aszalódni or 40 degrees, the hot winds stoppolni reménytelenben, but even more difficult emotionally on a busy road stoppolni hours, perhaps because our society has rigid world as a manifestation of any nature. Learn how, when there is no air over six thousand, ran out of food, drinkable water is not around me all the határaimat try, pushing. Slowly emerging, and thus closes the circle. But I guess those were not compasses round ..
Travel – to see crocodiles, elugrani me, elephant eyes to find myself on a narrow path, sleep mosquitoes with hundreds, lie down ants near constant annoying flies in the company to exist, because our eyes, throats fly, to cope with sand fly-s the mass of people who do not garden are much like the mosquitoes, chunk of it right away. Of course, the aggressive drunk or erratic drug is better, but it can meet anyone anywhere, I do not have far to go.
Travel – how to know when some weapon will lead, to be locked up, people around him do not die a peaceful death, threatened with a knife in there, or just spontaneous strikes. Because you're there, there and then. But since people have returned to Gulágról, I think the world is round. Anything can happen. Anything. Only csiszolgatom, domborítgatom, but maybe this hid for 34 years what others have built their lives. Do you have what, I have to. Although it is already saturated, and I feel that you can close it. The rest is a matter of destiny. I stand in his way.
Life is a gift.
Gabor