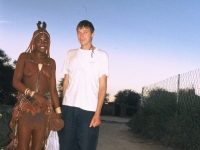 African Summary
Mainly I write about the society, because the tourist places and safaris are well advertised in the media, so I don't have to talk about them. Traveling as a backpacker in Africa is not typical because Africa is expensive so very few people come here. And if they come they pay for the safari, taking them place to place to see wildlife and waterfalls, so they don't mix with local folks, they don't overnight with local people, so generally saying those people don't know what it means to be in Africa.
The translation done by google translator, so it is not the best to read in english. If u r a Hungarian, use the Hungarian version.
I hitchhiked around 10 countries– S. Africa, Lesotho, Swaziland, Mozambique, Zambia, Zimbabwe, Malawi and to East Africa – Tanzania, Uganda, Kenya in 7 months period, so I have many experiences to share. When I mention Africa I refer these countries. There is huge diversity of culture in these areas, but I found some typical characters, attitudes, backgrounds, I wanted to point out in my writings.
When I asked black people what they like in Africa – they usually answered: the landscape, animals, (even if they never go to parks to see them, or they kill them for eating). And music.
Music and dance are very important part of the culture of the people. So there is no lack of singers in the schools, in the church, in the mass events and protests. My highlights were visiting churches on Sundays and enjoying the variety of gospels and choral music, sometimes combined with traditional dance. Great experience. The music is for everyone and everyone participates, from children to the elders. Sometimes at the pubs, by candle light, people were dancing to the music coming from the age old battery supplied transistor radio.
Of course when I'm looking for the traditional music it is extremely difficult to find anything, because today the modern thumping electronic music is more tempting and more popular, (and unfortunately the music is usually loud and fast on the street because the equipments.)
But when I asked them, please tell me what you like in the society, in tradition, about the people, they had to think hard and long!! Try it if you dont believe me. Finally they answered: nothing or sometimes: I like extended family, clothes, there is peace in between the tribes and that the people discuss every problems till they find answer.
So this is how they see themselves.
Basically, I Love the African people. Some people come to Africa with prejudgment, but I leave it with a post-judgment. This is what I would like to share. Generally they are very nice and friendly people, especially the elders. It's true, there are very few elders left because in Africa the average life expectancy is 38 years. (lucky for me, I have another 3 years left…but I can extend my life if I leave Africa J)
Really, everyone wants to talk with you on the street; they want to know where you came from, they are smiling, the children are waving… or throwing pebbles if they see you. Of course it depends upon where you are. I've been in Africa for 7 months visiting the eastern and southern part of Africa including ten countries, so I cannot really generalize how the people are, but there some main tendencies that I have observed as a foreigner.
So I like the Africans generally, but the main rule is not to expect the same attitude from people here as you may be used to in the western countries. If you do, you will end up in the insane asylum or on skid row.
Work and business
It is very difficult to employ them simply because they have a different attitudes toward time. As I mentioned they are happy to accompany you simply because they have time. This is the only thing they have (as I mentioned– 38 years). You have to attune yourself to that attitude and take off your European glasses and try to understand that the slogan "time is money" does not fit here because here time is just time. They are living for the present moment, ( so they are living in eternity. )
This approach to time brings a lot of consequences, which makes Africa what it is.
So if you want anything, you have to take time and forget your rational and "effectivity-oriented" mind. But because they have time, they make time to discuss problems and come to resolution. Traditionally this job is performed by the local chief in community cases.
If someone wants to be rich, he should be in Africa. This is the place where you can sell anything for inflated prices because everything is imported and there is no competition and no rules. And sometimes it makes more difficult to do business for foreigners, because they don't know who to bribe at the beginning.
The reason, why…
In Africa everyone wants to be rich, but within one day. This reflects also upon their conception of time. They haven't much of a long-term vision of life, thus aren't much for planning the future or trying to create enduring solutions. Every effort expended serves the temporary only. Of course this brings a lot of consequences like crimes robberies, corruption…spread of disease and poverty.
So if one has anything of value, including trees upon land, they take it away or chop it down. They use it. Here, they consider richness like the rain, it comes without effort when and if it does come. So if everything is broken down around someone, they just accept it, though not without hope that someone will come to help eventually.
In western attitude, it would be more lasting if they would milk the cow instead of slaughtering it, means, plant for later harvest, water the plants they have, maintain everything instead of just using things until its destroyed
The root of the problem…
The tipical short term thinking the root of the problem I think. And this I always associate with the climate. There is no winter, so they usually have something to eat year around, pick, or shoot for dinner.
But in Europe we have a long winter, so we developed the long term vision of life, because if you don't store food and wood for the winter, you will starve or freeze to death. So it was the criteria of surviving, so our culture adopted to it. This gives us the possibility to plan, to build up business as it needs vision about the future.
This difference also reflects in the marriage tradition. In Africa the male pays the females family for her, so in this way the parents can secure enough money for their older days as they lost their daughter and thus if they need care later in life, she will not be there.
In Europe it was the opposite, because the female's family use to give money with their daughter to her new husband, in this way securing the life of the future generation.
Politic and economy
In Africa, the modern corruptions roots we can find in this short-term thinking too, because the leaders don't know when the next greedy man will come to kick him out of power. So the best to get rich fast, so they became corrupt.
Africa is the richest continent in this world, but they are poor. They have plenty of natural resources, they have very good climate and still the population is relatively low density considering its size. Because of the corruption, the foreign companies can buy out the leaders who have the power to sell the agricultural and natural resource products and concessions. So in this way there's no industry, no jobs, rampant poverty and high prices because they have to import everything.
If they would think with the long-term vision, they would establish industry, giving jobs and salary to the people, which they can tax and then return to their own economy. Plus they could then sell the processed material abroad for much more than the raw material itself. If the economy were going well then the leaders wouldn't have to fear overthrow because they'd have the pure support of the people.
But easier to keep the people ignorant, because easier to manipulate them and buy them out. Today they are usually buying the votes, giving people washing powder, rice, oil, etc. in exchange for the vote. If people don't believe in the future then the moment becomes the most important, so if they get some food today, they'll vote for anyone who gives it. (gives hopeless future) The worst situation in Zimbabwe right now is due to the dictator Mugabe, more story in Zimbabwe chapter.
The Politicians
I Africa the president has lot of power, while the parliament just a necessary "democratic" display window. Filling up with their loyal people.
In parliament the politicians are usually reading their speeches from a paper sometimes in the style of children in secondary school. They probably haven't got many of their own thoughts.
Here the political positions are given not for talent or skills but due to nepotism or having some friendship with the deciding family, etc…or who can dispel with opposition most effectively (in some cases killing people who would object their policy)
Violence in Africa
Further statistics have shown that between 1945-90's civil wars, 4 million soldiers dies while 14 million civilians died. But the most shocking is that 48 million people died at the hands of their own government. I guess these figures pale in comparison to the loss of 79.5 million people killed in what they call "Structural Violence". So Africa is suffering from its own independence because it is still quite young. Since the 1990's
Only 5 million people have died, the happy peaceful years comparatively!
Crime
A person would not be judged in this culture they took something away from someone else. Even the government supported jobs, like the police, is not about protecting you but taking away from you. The have the power which they use for their personal benefit creating trouble for the average citizens. They will pull you over using some foolish excuse like they want to check your tires, or make sure you have a safety triangle (in case of auto break down), or to do a people count on the bus, only to try to swindle money from the drivers. But if they actually have people in their communities needing serious assistance with real crimes, they are never there. They have no computers, phones, radios, etc to reach them by, so if you need them you have to physically go get them and bring or pay for the petrol to get them to join you. Of course in this situation people think its more effective if you catch your own robber yourself and punish him yourself instead of waiting for the corrupt judge to properly handle the situation. Herein explains much of the violence they experience within their immediate communities. Back to the stone age.
And the biggest problem from the angle of safety, if they can not get it , they take it (with violence). Every foreign I know was mugged in South Africa. Local people too, but they used to. And the problem, people accept it. They afraid to interact. I was mugged too, nobody helped me to fight with these criminals.
After 18h. the streets are empty, everyone running home for safe place. No social life after dark. Just the fear. Only Kampala had small evening life, rest of African capitals are dead.
Business
So if we are paying for some service, it doesn't that we actually get something in return. It only means that they will take away the money, nothing going toward its intended project or to repair, maintain and improve. BUT they WILL have car, telephone and beer. In Africa everyone wants to be a middle-man because this is the way they can get the most with the least amount of work. So in this way everything became expensive because nobody will produce, thus they have to import everything.
And more and more Chinese supermarkets and shops, concessions, etc.
Work
Better not to. Most of the people who working are not doing so because they like it, enjoy it, are interested in it or are learning from it. Not. The only motivation is the payment envelope. Perhaps it would be more accurate to say that people are employed, though this does not necessarily mean they are actively working and the employer should count himself lucky if the employee even shows up at work. On payment day they will definitely be there. Many people in Africa complained against the Chinese employers that they bring their own employees from China. It is because they have deadlines to meet and they can count on the Chinese employees to show up and work all day. The typical African employee will, if they show up at all, will arrive, stop for breakfast, work a bit, stop for a rest because too hot or raining, work a bit, stop for lunch, etc… another problem for employees is commonly stolen equipment from their worksites. Employees aren't always really intending to steal, but simply have a need for the item, something they need at home and don't have, so they bring it there. Not much ill-intent or pre-meditation, just satisfying a need of the present moment as they see it.
But for me the most annoying thing is when people get a salary to waste my time, for instance people working at the tourist information centers will often either not have answers to your questions or they will offer you incorrect information.
How to ruin a country
Zimbabwe was the breadbasket of Africa, a very prosperous country, black and white were co-existing peacefully, but the black people didn't want the white leadership. The white people built hospitals, schools, and enacted healthy water policies. As they say today instead of the white order they get black chaos. So today they can ruin the country independently, what they had accumulated in the prosperous times is now long gone. What worked effectively began to disintegrate with the influx of local leaders.
The final blow was the taking away of land from the white farmers without compensation because the government used their money for the supporting the Congo guerilla wars. The black Zimbabweans had nothing, so the government had to give them something to calm down. This was called the "Land Reform". But the only people who got the land, were not necessarily those who needed it or knew how to use it, but the 30% who were loyal to Mugabe.
Most of the people wanted fast cash so they 'killed their dairy cows' – the white farms'. The new owners were selling the irrigation tubes because they could make money selling it. They don't buy fertilizer because it costs money and they don't want to invest, they don't use pesticides because they don't know how to use it, the tractors broke down because they were not maintained nor repaired and because they figured they could find cheap labor and didn't need them anyhow. Nobody inheriting this land ever considered that the white farmers had done much more than snapped their fingers to make their farms successful. So the big farms broke down. So now the peasants can produce only enough to self-sustain, no surplus to sell on the market, feed the city and if they have some, they have no money for petrol to drive the truck to market.
So after this, obviously no foreign investment money comes because who would be so stupid to invest when one irresponsible leader could come in and take away everything. Even the leaders keep their money in the Swiss bank accounts, out of fear of eventual overthrow by another strong-armed leader. This is the soft version of how things can turn out, as in Rwanda we saw they killed 1 million people in 3 months.
Here it is sufficient to frighten the people and the rest can be bought out or promised something. But they can do it as long as the country doesn't become deserted or as long as the earth will provide raw material in its natural resources.
Africa – Western world
Africans enjoy life using all means available to them to enjoy it, while Europeans enjoy life by building up their lives with the accoutrements they desire. Africans are less willing to work for their rewards in life.
And those people who understand the problems and have the ability to see holistically aren't able to get into a position to do anything about it and eventually end up leaving their country for Europe or elsewhere in the western world.
Voluntary work
I feel there is no social sensitivity, nor altruistic inspiration in the people…voluntary work is almost unheard of. There are many voluntary organizations that employ Africans, but the aid in many of these situations never arrives to those who need it most because the money seems to disappear for the 4 wheel drive cars, computers and renting properties for the workers themselves, so there is no money leftover to serve the aims of the organizations.
Africa also gets a lot money for its beautiful, big-eyed, starving children and there are always enthusiastic volunteers who will invest their time, knowledge and labor to improve the life of theses poor people.
During my travels I met many foreign voluntarys, but they were always complaining that the project works well as long as they are physically there, but as soon as they leave the entire project falls apart. The previously manifested energy and money granted by western taxpayers vanishes into thin air.
Voluntary work in these countries is also nearly unheard of because the people think "why on earth would I want to do something for nothing?" They have no enthusiasm for ideas that are concerned with improvement of the community condition in the individual mind. Or if they have no support from the coworkers. You gain their enthusiasm only if its stimulated by money.
But I think its very important to involve the local people and let them understand why it is good for the community and if they don't feel like participating after hearing what its about, then I think it's better not to even begin as it will dissolve rapidly and be unsustainable. Even a simple job like digging a shit-hole for the public schoolchildren to use is done by European volunteers (who are worried about the health of the Africans, more, it would seem, than even the local people).
Recently the health system has improved a bit in Africa, at least by their standards (quite different than what the European standard would be), so many more children survive the childhood diseases. There are many foreign aid programs that give food to the schools for free. So the population is growing but the infrastructural improvements is not increasing as fast as the populace, thus bringing about more poverty.
So the circle is like this: European farm system plus healthcare, growing population. The farms providing enough for these population. Independence, local leaders, corruption, they live up everything, so they destroy the old functioning system, so that is the recipe for the poverty.
Poverty
There are many statistics saying that most of the people in Africa are living on 1 to 2 dollars a day. But if you see the prices around, you realize that it's impossible to survive on that small an amount. The thing is that these statistics are incomplete as most of the population is self-sustaining and not registered with these government-tethered agencies that are doing the counting. They are, for instance, farming on their own–what is surplus of their crop is then brought to market to sell.
There are only two countries where there is 24 hours a day electricity, everywhere else it is blackout randomly and most of the time in the evening. Most places there is no running water, or they have to walk far to get it, or if someone has it in their home (usually the more affluent) the neighbors would have to buy it.
But if someone has water or electricity, they leaking, and they don't turn of.. Africa is rich….
Humor
Fortunately there is exist a small intelligent, thinking and understanding part of the society. The Zimbabwean opposition newspaper has a lot of humor about Africa as they wrote about Africa Day.
"This is the day of the dictators who have already spent 2 or 3 terms in power. All the leaders remind us that we have to unite to protect our sovereignty – while they are protecting their Swiss bank accounts.
This day our dictators – leaders remind us about our African Identity which stifles us from expressing our democratic views!
On Africa day our leaders remind us to resist against the new colonial attempts. (what is coming from the east – China – is OK!)
This day our leaders remind us that we have to be grateful that we are oppressed by our own race!!!!
Creativity
The Africans definitely seem far less enterprising than, say the Asian people, and when even a small idea is introduced that could improve upon their business they don't enthusiastically run with good ideas. Instead they smile and nod then shrug it off, doing things as they have and as easily as possible. In Africa they are overproducing sugar and it is very difficult to sell. You'll see many people walking around chewing on the cane or buying/selling Coca Cola instead of utilizing what they have plenty of. With the exception of perhaps two places in Zanzibar, there are no presses on the street selling fresh-squeezed sugar cane juice. If they got a few they could solve the problem of overproduction, giving people jobs and fresh juice and reducing the demand for the Coca Cola.
I found them less creative at solving everyday problems. In the photo shop, for instance, one of the panels of glass in a display case had broken in the camera case. Instead of rearranging the store ever so slightly to accommodate the cameras in another safe place, they moved all their cameras to the room at the back of the store while they figured out who would fix the case. They sold NO cameras during this time, instead telling people to come back in four days when the glass in the case was replaced, missing out on business.
Lacking in cooperation.
If three neighbors are heading the same way into town and one has a car, it does not occur to them to arrange a ride share, so everyone paying for taxi, spending their half salary for the taxi mafia.
What to say?
They never say "I don't know" if you ask a question they have no clue as to the answer to. They start to think hard about what they should say instead.
It difficult to get an answer if you ask a question such as "What do you think about…" (a general question about education or some simple opinion on a local or regional matter).
People here also tend toward un-clarity in their responses to your inquiries. If I ask how much it would cost for a text message with his mobile phone, they would answer that they have no units in their phone instead of what the price would be.
Aesthetic
Africans in everyday life seem to place little value on the aesthetic aspects of life, when practicality is more than enough (garden, the house, parks).
The Life of the Middle Class
In the supermarket there is a sign that you should push the cart yourself and not ask the supermarket staff security to do it for you. The purpose of this sign brings an interesting reflection of the way people are regarded in terms of class in this country now. Any black person can be rich or poor these days. The way a person can usually identify a middle class person in a group is that they will be more belligerent, rude, bossy and generally unpleasant than the poorer people. In the market then they apparently need such a sign to warn those people who already have developed a habit of demanding others to serve them.
I heard a joke in South Africa after I arrived.
"What is the difference between a tourist and a racist?"
the answer? "Only about an hour"
(suggesting it takes no more than that for people to develop some biases against the African attitude).
The average African people are very nice, helpful, smiling, but the people who newly became rich or got a new position change their attitude as quickly as they change their clothes and immediately it became very important for them to show off (how many wives they have, money, power). They're building their castle-like homes protecting themselves from other black people, getting a new jeep, smelling of perfumes*, buying their wives fancy accessories for their hair…yet they spend nothing on such useful things as faucets or interior wall paint.
(*In the U.S. the average African American is spending 3 times more on personal hygiene products, soaps, lotions, potions, etc. said one statistic too)
Might look nice on the outside but is usually looking broken down on the inside. The television running all night even when nobody is watching, the lamps don't sleep either. In the kitchen, the pots are very old and they usually eat the same thing each day—corn cooked in water (a traditional meal for many Africans) with some fried meat. Yet they behave as if they are some sort of high-society now, displaying these items they have decided are badges of honor that they have climbed to a superior social status.
It is very rare that a parent will be found playing with or directly looking after their child(ren). Usually they just deliver an order or "don't do this" rule and leave it at that.
School
I visited many schools in every country, and my general impression is: Of course, it is poor. In many countries the only reason to put your child in school is to get free food from the American aid programs and to have less noise at home. Most of the schools have no books or every 4th or 5th person can use one. They never read at home. There is no toilet and water for the children and the teachers were always asking me for money for the telephone line for the school. This is the extent of the enthusiasm they have for their jobs and pupils, not because they like to teach, but for more selfish motivation.
The method of teaching is usually limited to repetition. The teacher says something, the children try to emulate and repeat, rarely even knowing what it is they are studying. In fact, they welcome their teacher in the same phrase "Good Morning Misses ___" even if she should happen to be ill that day and a male substitute teacher arrives. They are taught no concept of adjusting to the different person in the room, just repeating what has been pounded into their rote memory.
Even in the high school level, kids have usually never owned a book in their lives. So the knowledge they have is what the teacher has written on the chalkboard. They copied and memorized that info only, word by word without understanding the content. They can tell you definitions of climate change, soil erosion and deforestation, but they have no idea as to the cause and effect relation between these things. They ask me why they are studying geography at all. I understood them. This is a real question in the context of their situation.
Even the physics and history teachers asked me questions about relatively basic things that they were never taught in the course of their own study but were curious about.
Child
They can leave their still-nursing infant children with their parents or family and leave for several days at a time without a second thought or worry. Most African families think it is enough to just feed their children and get them water. We could say that it is a selfish society, but it's not like that because in the society where the extended family is still living very nearby then "my child is my sister's child" (and often "my sister is my husband's mistress")
The children are nearly dying of boredom because they have no toys, with the families saying they have no money for such things. (but of course they have money for hairdresser, mobile phone, taxi, etc) But nobody teaches them how they can build basic toys out of natural elements as we did in Europe. Or exchange with other parents. So what's left for them is sitting in front of a television all day, not using their mind and developing motor skills.
Women
Instead of being regarded for their uniqueness, talents and brains as a partner and friend, women to African men are thought more in terms of their service in the home and in the bed. There is no shame in male conversation to discuss beating your wife. The females speak nothing of deriving any pleasure from sex; the aim is merely to serve the male pleasure. And the children naturally come, two and three children…and it is very rare to see a healthy intact family complete with a father beside his wife and children. The males pretty much disappear after the children are born and finding another girl to be with. In this sense they are in keeping with the tradition which allows them more wives (or in this case females).
In the old time if you had many wives it showed that you were a man of wealth, able to afford so many women. Today they don't have enough money to actually buy more wives as that is too expensive. However they can afford a girl for a night or a short period with more ease, especially if they bought shiny shoes or flashy clothes to lure them into thinking they'd be getting higher status in society as a married woman, marrying this man. They are having children with these women but taking no responsibility. Most important for the man is that they have one more woman on their list of 'conquered women', which invariably turns out to be a death list with the rampant spread of HIV well established (at least 30% of the population is infected). Because the women are often aware that the men are usually unreliable, they too will often have several men on their lines, placing small bets on many instead of all on one man.
When a woman, who has already left or lost her extended family system, discovers she is pregnant or has contracted a disease, she will often have no money for a doctor treatment and so end up having the baby and putting them into the orphanage (6% of the population in Zimbabwe, for example, is orphaned and 30% of these children are infected with HIV)).
And one more: rape-ing. From child till the 80 year old women are in danger to be raped. If they cant get, they take. It applies for the pleaser too. No control.
Hospitalization
In many countries you must provide your own auxillary blood if you are going in for an operation and you will do better if you bring your own doctor too. All around Africa you will find many Cuban doctors because the African education system is still not as developed as the western world.
In Malawi I was talking with the doctors who told me that every day a few five and six year old children arrive with sexually transmitted diseases. When they ask the mothers how they may have contracted this, they always cover their husbands (or whomever may have molested the child) and claim not to know.
Food
Gruel. Starch. Bland, uninteresting, basic sustainment-of-life porridge and roasted meat.
Of course you can find rice and beans and greens, but they are rare to find. So to be a vegetarian in Africa it is not easy. There isn't much culinary pleasure to be had in this food, just slop to quiet your hunger. Salt and chili represent the spectrum of flavorings in African food, to find one of them is rare, to find both is the top of the line. (I speak of the food you can find on the streets, if you find any at all)
It takes thousands of years to shape the cuisine of a culture and it's so fragile because wars and famines can come and sweep these periods of abundance away and immediately we could be back in the stone age.
In Mozambique one can find food made of sand (though it is officially forbidden…often eaten by pregnant mothers). In South Africa you can find rocks sold to cook with, which you take home and crush yourself.
There are many novelties. For example they are making the fried egg in a plastic bag so the egg will not infiltrate the oil and it can be reused for a long time. Of course at the same time the heated plastic is releasing toxins into the food, then the body, but hey, it's a novelty, something new!
Beers are opened with the teeth here. The rubber bands are associated with money, as they are used to bundle it. At the internet café or the hairdressers you can find 20 year old magazines to read.
In fact, Africa is interesting continent to observe…
But of course in Africa there are elephants, crocodiles, hippopotamus, baboons, expensive safaris and zero tourists (comparatively speaking to all other continents).
Because Africa wants to be rich in one day and in some national parks the camping costs $200-400 per night. Even a few square meters of sand in the middle of the desert also costs $10 if you want to camp, that's why in the first 4 months I only spent 7 nights in the guest houses. (and one of the guest houses I stayed ended up stealing all of my money and camera from my room, making my future journey more challenging)
At night often 4-8 degree Celsius (COLD), but the sky with the stars and the dreams I had there are still mine.
There are many things I have probably omitted, but I will elaborate at the appropriate country when I write more details of my experience in each of them. I appreciate any reaction, comments, differing opinions and welcome discussions on what you think of this.
It is possible to return from Africa amazed at how beautiful the country is, how nice, yet poor the people, and how fantastic the animals…but perhaps these visitors didn't see or understand all the aspects due to being sheparded with their safari tour and safely isolated from the real life and culture. Or perhaps they've never been there at all…but after all of this, maybe they will not wish to.
Thank you,
Gabor Csonka
Vandorboy